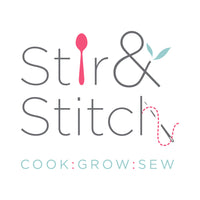 Hello! Welcome to Stir & Stitch!
Walk through the gate of Stir & Stitch & you will find a creative, fun, relaxed, & inspiring space that brings the community together to meet with friends, & make new ones.
We are a unique business that hosts a range of activities, including Yeppoon's only teahouse; along with hosting high tea's, private events & catering.
At Stir & Stitch, you are also able to join in a range of cooking, sewing & creative workshops for children, teenagers & adults.
We would love to see you soon.
❤️ Amanda & the Stir & Stitch team x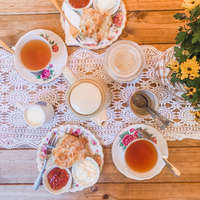 The Stir & Stitch Teahouse
Enjoy the perfect day out by joining us for a cup of our delicious freshly brewed Honeybush Chai, a pot of one of the many beautiful teas available or a 'slow coffee' served in a French Press plunger.
Pair with one of our freshly baked house-made scones, cakes, slices or savouries in our beautiful garden setting that will instantly make you feel at home.
Enjoy a weekday lunch with a fresh made-to-order sandwich, quiche or frittata.
All our treats are made for you with love & we are having a lot of fun baking different goodies each day; you will always find something different!  
Follow our Instagram & Facebook pages to keep up to date.
Open Wednesday to Friday 9am to 2pm-ish & Saturday 9am to 12noon.
COMING UP AT STIR & STITCH
Creativity & Community
At Stir & Stitch we create community through creativity.
We host Maker's Mornings & Evenings where guests are invited to BYO their own project & enjoy creative time with others while sipping on tea & eating cake!
For a small donation you may use our new Brother sewing machines too.
Everyone is welcome & it is the perfect space to build new friendships & learn from each other.
We even have our very own craft 'library' where you are welcome to donate crafty items for others to enjoy.
Makers Mornings are held Wednesday to Friday from 9am & each fortnight on a Tuesday evening from 630pm.
Various creative workshops are also held on a regular basis.
Join our Facebook page to stay up to date.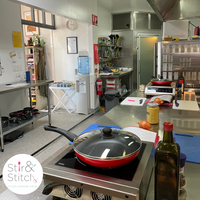 Cooking Fun at Stir & Stitch
We believe everyone should know how to cook inexpensive, delicious, uncomplicated meals for themselves, friends & family.
For a night out with a difference book your very own Cook & Dine with a group of friends, family, or workmates. The point of difference is you have learnt to cook the deliciousness you will enjoy together in your very own private restaurant!
We offer a range of cuisines to choose from that are all very easy to replicate at home.
Also keep an eye out for our cooking classes & courses that we offer from time to time.
Testimonials
Hats off to Stitch (Amanda) and Jai 😍

I went to a Cook and Dine Asian Feast last night, and it was truly Amazing🤩
Stitch is the Perfect Host, guiding our cooking with ease and fun, the food/menu was so flavoursome, colourful and fresh, the setting is a fabulously interesting blend of homey-boho-cottage-eclectic and gorgeous plants and everyone who went last night chatted and laughed with ease like old friends catching up.
Honestly can not recommend time spent at, and with, Stir and Stitch enough.
Definitely ⭐️⭐️⭐️⭐️⭐️

Linda
What a fabulous place… so quirky and fun. The scones and jam and cream were one of the best we've had. Wish I lived here… love the workshop area.. brilliant idea ⭐️⭐️⭐️⭐️⭐️

Karen
Had the most enjoyable afternoon today learning embroidery stitches with a group of wonderful friends. What an amazing venue under the beautiful shady fig tree at Stir and Stitch. . Amanda was the perfect patient and gentle teacher. Would recommend a stitching workshop to everyone. Do yourself a favour and get a group together for a workshop, you will looove it!!! Thanks Amanda for offering such a unique experience right here in Yeppoon. xo ⭐️⭐️⭐️⭐️⭐️

Sally
My friends and I had an absolute ball at the cooking class. We learnt to make gnocchi from scratch, bruschetta and stuffed mushrooms. The best bit was, that there was no washing up or cleaning up! We hesitated to bring stuff to make cocktails due to time restraints however all the annoying prep (like peeling potatoes) was done and you do have a bit of time while things are in the oven. Do not eat before you go, there is more food than you can eat, especially if you are drinking! Amanda was a fabulous instructor and host. I would highly recommend for a fun, fuss free night. ⭐️⭐️⭐️⭐️⭐️

Anna